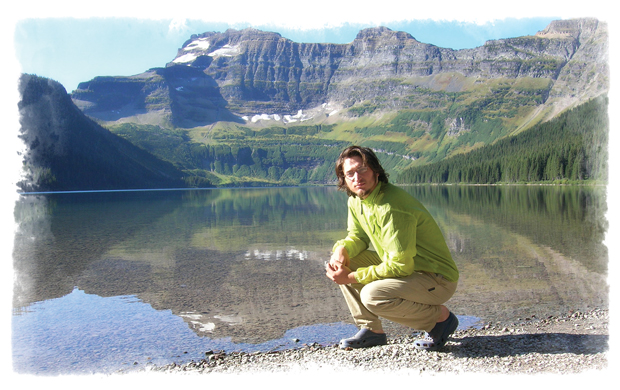 I grew up in Briarcliff, NY, about an hour north of New York City. After college I quickly shunned the traditional career path and lived in southern Vermont, Dillon, CO, and Truckee, CA, as I followed snow and my passion for skiing. When I am not hiking, I work as a ski patroller. Recreationally I enjoy backcountry skiing, Nordic skiing, snowshoeing, mountain biking, surfing and anything else active and outdoors.
Since 2002, I have hiked over 35,000 miles, equal to nearly one and a half times around the Earth. My passion started in 2002 when I took an outdoor education class through the University of California at Santa Cruz. In this class we mostly travelled cross-country through the canyon country of southern Utah. On this trip I started developing the idea of setting off on the Appalachian Trail. The following year, 2003, I hiked from Georgia to Cap Gaspe, Quebec following the Appalachian Trail and International Appalachian Trail.
The next year, I undertook the Pacific Crest Trail from Mexico to Canada and then continued on the Pacific Northwest Trail to the Washington coast. I finished my first Triple Crown in 2005 upon completing the Continental Divide Trail from Mexico to Canada. I didn't stop there, however– I continued to hike north from the Canadian border on the Great Divide Trail to Kakwa Lake, British Columbia. Upon completing the Triple Crown of long-distance hiking, I looked for an opportunity to challenge myself, push the limits of human endurance, and a good excuse to be outside and hike for a year straight. From, 11/1/05 to 10/23/06 I completed the Eastern Continental Trail (Cap Gaspe, QC to Key West, FL, incorporating the AT), the Pacific Crest Trail, and the Continental Divide Trail in under a year, a total of over 10,000 miles in 356 days.
The following year frequent hiking partner Pepper and I developed a precursor to the Te Araroa Trail in New Zealand and traversed the Southern Alps and the South Island of New Zealand from south to north.
In 2007, I swam unsupported around Lake Tahoe without a wetsuit, and developed and hiked a route from Durango, CO to Las Vegas, NV. In 2008, I hiked the Hayduke Trail through UT and AZ, traversed Iceland on foot, and hiked through Norway and Sweden. The next summer I ambitiously hiked 1800 miles, solo and unsupported, through Africa, including crossing through Ethiopia and Kenya, before ending my trip after being stalked by lions. In 2011, I completed a traverse of the Himalaya Mountain Range from the eastern Nepal border to the India/Pakistan border.
I still work as a ski patroller in the winter, and I am constantly dreaming up new adventures.